With the summer holidays just around the corner, Korean blogger Neowind has decided to list his favorite destinations in Korea, from Seoul to Jeju.  This is a translation of the original post in Korean.
Those of you who have decided to skip vacations this year may find this post bothersome, but I hope it provides valuable information for those who can't decide where to go.  You can choose a destination close to where you live or as far away as you'd like.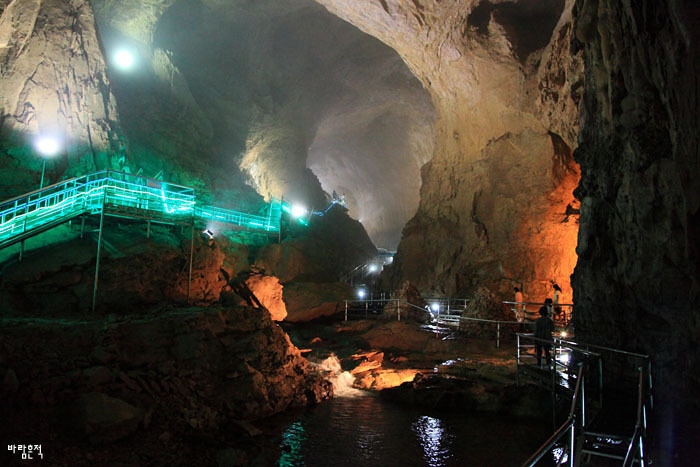 1. Let's ride the monorail and explore caves: Hwansun Caves in Samcheok, Gangwon-do
Hwansun Cave is 6.2 kilometers deep and is the largest lime cave in Asia. The public is allowed to access 1.6 kilometers of the cave, which can be as wide as 20 to 100 meters and as high as 20 to 30 meters. The Hwansun Cave also houses two squares and 10 small lakes of varying sizes, as well as six waterfalls. Daegeum Cave and Hwansun Cave are open to the public. Hwansun Cave is open all year round, but you need to reserve online in advance to enter Daegeum Cave. Monorails have recently been laid in Hwansun Cave, and visitors can reach the cave without walking up the mountain.
☞ Expected duration of the trip
By foot: About two hours from the ticket office to the entrance — one hour for the round trip and another hour for touring inside the cave
By monorail: One hour and 15 minutes — 15 minutes from the ticket office to the entrance and one hour for touring inside the cave
☞ Travel Information: Summer (March – October): 8:00 a.m. to 7:00 p.m. (ticket office closes at 5:00 p.m. / enter by 5:30 p.m.). Admission fee is ₩4,000 for adults. Monorail costs ₩3,000 for one way, and ₩5,000 for round trip. You can also walk. (☎ 033-541-9266)
☞ Nearby Attractions: To make a three-day trip, you may want to include in your itinerary: Jukseoru, Cheoneun Temple, Gongyawangreung, Haeshindang, and Mureung Gyegok. You'll find many beautiful beaches, including Yonghwa and Jangho.
2. Ride a cable car to witness a breathtaking view of Mount Seorak: Yangyang, Gangwon-do
Start from Shinheung Temple located inside Mount Seorak National Park. Elderly visitors or young children can ride a cable car and reach the peak to take in a breathtaking view of the mountain. If you're lucky, you can see Ulsan Rock and the view from Dalmabong.
☞ Travel Information: The cable car runs from 7:30 a.m. through 6:30 p.m. during the summer season (end of July through August). No reservations can be made by telephone. All tickets are sold at the ticket office. A round trip costs ₩8,500 for adults and ₩5,500 for children. (☎ 033-636-4300)
☞ Nearby Attractions: Shinheung Temple, Naksan Temple, Yeongrangho, Wang Gok Folk Village, Hajodae, Cheongganjeong, Abai Village. You may want to choose places in Yangyang, Sokcho, and Gangneung for your itinerary. Many beaches including Gyeongpodae Beach, Songjiho, and Hajodae are also nearby.
3. For those who can't afford to escape the city: The National Museum of Korea, Seoul
If you can't even afford a couple of days of holiday, you may want to visit local museums. For those who live in Seoul or nearby, how about the National Museum of Korea? In a fully air-conditioned setting, you can enjoy national treasures and learn about Korean history. It can also be an educational experience for children. Check out the current special exhibitions. One of them is the fourth world civilization exhibition, "Gods, Heroes and Mortals: Art and Life in Ancient Greece," on through August.
☞ Hours: 9:00 a.m. to 6:00 p.m. Tuesdays, Thursdays, Fridays; 9:00 a.m. to 9:00 p.m. Wednesdays, Saturdays; 9:00 a.m. to 7:00 p.m. Sundays and holidays. www.museum.go.kr
4. Enjoy the stunning view of Chungju Lake by ferry: Danyang, Chungbuk, and the Observatory Tower on Mount Yangbaek
The ferry ride to Chungju Lake from Janghoi Naru takes about 90 minutes round-trip. It costs ₩12,000 for adult and ₩7,500 for children. You can travel to Shin Danyang and many other places via ferry, and the fare varies. If you are not too excited about taking a ferry, there's also a nice drive around the Chungju Lake. Going to the Observatory Tower on Mount Yangbaek  for a night view is another great adventure. It presents magnificent views of countless stars in the sky, so bright that they seem to be within your reach. www.chungjutour.co.kr
☞ Nearby Attractions: Cheongpung Cultural Heritage Complex, Jeongbang Temple, Ondalsanseong, Dodamsambong, Saainam. You can find a number of streams nearby and might want to consider visiting Jecheon and Goisan as well.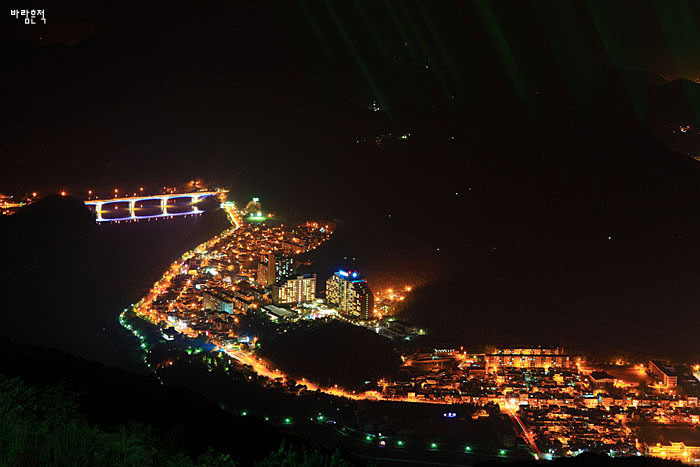 5. A walk through fragrant pine forests: Chungnam Taean Anmyeondo
The pine-tree colony in Anmyeondo was planted by people. During the Goryeo Dynasty, the entire island used to be pastures, and the government started planting pine trees here from the Joseon Dynasty period. The government officials applied strict measures in its management of the trees, even dubbing the colony "The Royal Forest." Anyone who was caught cutting down a tree was given a death sentence. Many of the trees were later sold at a dirt-cheap price to individuals during the Japanese colonization period, and the excessive extraction of pine resin during the Pacific War for military supplies damaged many trees as well. Currently, trees averaging 100 years old cover an area of 430 hectares.
☞ Nearby Attractions: You can find a number of beaches in the Anmyeondo area. Also consider including destinations in Seosan-gun and Yesan-gun when you visit Anmyeondo.
6. Take a barefoot stroll on mountain trails by waterfalls: Jeonbuk, Sunchang, Mount Gangcheon
Mount Gangcheon is famous for its streams and clear water in all seasons. If you start from Damyang, you can drive through several kilometers surrounded by metasequoia. Start from the entrance of Mount Gangcheon and go through Byungpoong Waterfalls, Gangcheon Temple, Gujanggun Waterfalls and arrive at the lake in about 2.5 hours.
☞ Nearby Attractions: Mount Hoimun Recreational Forest, Gochujang village, Janggunmok Park which was the shooting location of the film Spring in My Hometown (아름다운 시절). Consider including places in Damyang in your itinerary, such as Sosewon and Myungokheon, the summer houses of Joseon yangban.
7. Old-fashioned steam trains and rail bikes: Jeonnam Gokseong Seomjin River Train Village
At the Gokseong Train Village, you can experience magic shows and other performances presented twice daily (at 1:00 p.m. and 3:00 p.m.) every Saturday and Sunday from April through October. Other attractions at the village include an insect museum, film sets, and rose garden.
☞ Travel Information: The steam train costs ₩6,000 for a round trip and ₩4,000 for one-way. It runs five times daily: 9:30, 11:30 a.m., 1:30, 3:30, and 5:30 p.m.. The trip takes 25 minutes one-way and 90 minutes for a round trip (train stops at Gajeong Station for 30 minutes).
The rail bike in the Train Village takes about 15 minutes, covering a distance of 1.6 kilometers. The fare is ₩7,000 for a four-person ride.
The Seomjin River rail bike running one way from Chimgok Station to Gajeong Station leaves five times daily: 9:00, 11:00 a.m., 1:00, 3:00, and 5:00 p.m.. Shuttle buses are provided from Gajeong Station to Chimgok. The entire trip covers 5.1 kilometers costing ₩15,000 for a two-person ride, and ₩22,000 for four persons.
For more information, call the Rail Bike 061-362-7717; Steam Train 061-363-6174, 9900.
☞ Nearby Attractions: You can rent a bicycle at a bike renter across from the Seomjin River by julbae (rope boat) or by crossing Duga Bridge from Gajeong Station for a ride along the Seomjin River. Nearby there are: Gokseong Farmers Market; a stream by Dorim Temple, and Taean Temple. You may also want to consider Unjoru, Saseong Amja (small temple), and Gurye Hwaeom Temple. I also highly recommend taking a walk by the forest on the way to Yeongiam or visit the Nogodahn Wonchuri Colony and the sea of clouds. Namwon Gwanghanru is not too far away.
8. Enjoy walking, driving and swimming: Gyeongbuk Gimcheon Muheul Gugok
The Sudo Stream in Gimcheon-shi, Jeungsan-myeon is known for its clear water, extraordinary rocks and stones and its thick forest. The seven-kilometer-long stream stretching from the entrance of Cheongam Temple to the Sudoam, is surrounded by outstanding views of Manwoldam, Waryongahm, and Yongchu. This is an intriguing place for enjoying swimming and walking and driving.
☞ Nearby Attractions: Cheongam Temple, Sudoam, and Jikji Temple are nearby. You may also want to include places in Sangju, Chungbuk Yeongdong and Jeonbuk Muju in your itinerary. I highly recommend Gonggal Pond in Sangju, which is known for its lotus flowers.
9. Take a cable car to see the breathtaking view of Halleosudo: Gyeongnam, Tongyeong, Mount Mireuk
You can get great views of Namhae wherever you stand in Mireukdo, Tongyeong. The Sanyang Scenic Route that runs around the island is one of the best drives in the South Sea of Korea. The 23-kilometer-long coastline presents a magnificent view of the nearby attractions, such as Samdeok Port, Dala Park, The Marine Museum, and Yeongwoonri. And the best among them is definitely Mireuk Mountain, which stands 461 meters above sea level. On top of the Mount Mireuk, you are presented with a magnificent view of Halleosudo.
☞ Travel Information:
It is closed the second and fourth Mondays of each month (July 12, 26, August 9, 23). Cable car runs from 9:30 a.m. to 7:00 p.m. but you must board by 6:00 p.m. For a round trip, the adult fare is ₩9,000 and ₩5,500 for children. You can make a reservation by telephone at 055-649-3804~5 or online http://www.ttdc.co.kr/use/
☞ Nearby Attractions: Dongpeerang, Dala Park, the Marine Museum, Sebyunggwan, Chungryeol Temple, Jungang Market, and Seoho Market. It is highly recommended that you include Yeonhwado, Yokjido, Somaemuldo, and other islands nearby in your itinerary. You can get there from the Tongyeong terminal. You can also consider going to Haegeum River in Geojedo, Gujora and Hakdongmongdol beaches, and Yuhchahongpo Coastal Road.
10. Enjoy the ocean near Jeju on a luxurious yacht
Jeju is one of the most desired destinations for everyone in Korea. You can enjoy the waters around Jeju in the lap of luxury via "Pacific Land" in the Jungmoon Complex. You can hop on a yacht and take a full view of the Jeju ocean. It may be a bit costly but it won't fail to impress you and your family.
☞ Travel Information: Pacific Land in the Jungmun Complex (Tel: 1544-2988) Fare: ₩40,000 to 80,000 per person. Jet boat costs ₩25,000.
☞ Nearby Attractions:
Just grab any map of Jeju and hit any destination. You won't be disappointed.